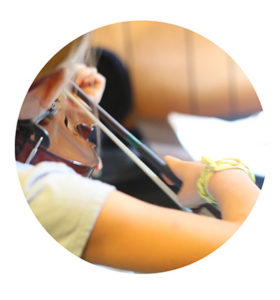 Instructor Andrew Noble using catchy songs and fun games to engage students with the learning process. He also encourages them to move to the music, and play simple percussion instruments like drums and step bells.
This holistic approach immerses students in the language of music, making the process of playing their instrument like a second nature. The Noble Violin's curriculum takes students from beginner to advanced with clear milestones along the way.
Andrew's students have aced college auditions, participated in all-state and all-regional orchestras, and are often top chairs in their middle and high school orchestras. Read more about Andrew's Qualifications.
30-minute lesson

$35

45-minute lesson

$45

1 hour

$55
Monday-Wednesday, 3-7 PM
Violin lessons are most effective for students who:
are age 4 or older

practice every day

own an appropriately-sized instrument

can mentally focus and maintain moderate physical activity for at least 30 minutes

have basic writing skills (not required)

can commit to at least 3 months of lessons
Want more information about picking the right instrument for a beginner?